Many are wondering why Villeneuve didn't try to secure a seat to another team, when his contract with BAR was about to expire by the end of 2003 and no renewal proposal was still offered to him.
Villeneuve denied his motivation for staying in BAR was his champion-level wages as the damage in his reputation due to BAR's performance was more severe.
Villeneuve was established on the very opposite side of Juan Manuel Fangio whose driving philosophy was to jump from race-winning contender to race-winning contender in order to accomplish 5 F1 World championships.
Villeneuve declared
"If I do something, I will do it until I get to the point I want to reach. Once I've reached that, I can put it down."
and stayed loyal on the challenge of the BAR concept as he was a part of it since its foundation. He stayed loyal in the end of 2000 when he had proposals by McLaren and Benetton. He stayed loyal when his manager was dismissed by the position of Team Principal at the start of the 2002 season. He stayed loyal when his performance was destroyed 9 times by mechanical reasons during his latest season. But seemed that this hyper-loyalty to BAR proved to be his disaster in his F1 career.
His former boss, Frank Williams, showed also his admiration for Villeneuve's loyalty to an uncompetitive team for so long; a decision Williams believes has not been solely about money, as many Villeneuve detractors would have you believe.
"The facts are that Jacques chose to move to a team and remain loyal to a team that, despite the fanfare, never quite got into the first group,"
insists Williams...
"You can't fault his loyalty. He can't be blamed for what he did. But what we have here is one of the basic tenets of Formula One: no matter how good he is, a driver is always coloured by his car. Put Michael in a Minardi and he might move it up the grid a few rows. But no more. Give Jacques a better car and I'm sure he'll do better."
Despite the embarrassing performance of the car, Villeneuve sensed car's potential towards the following years and maybe even anticipated team's takeover by HONDA in 2005 which led to the replacement of Davind Richards by Nick Fry. And he was optimistic that his contract with the team, still owned by 50% by BAT, would have been renewed again. It is believed that his dismissal was a combination of Honda's desire to lineup a Japanese driver in the team - Takuma Sato, and Richard's speculation that Jenson Button was more capable than Villeneuve to push the team in victorious results.
With the rest of the grid already determined for 2004, many presumed Villeneuve's Formula One career was effectively over at this point.
However, the Canadian insisted that he had given no thought to retiring and was just confined to a season out of the sport looking the possibilities of a phoenix-like return.
Numerous reports thoughout the season linked Villeneuve with an imminent return, most notably with Williams who was looking for a high-class driver after Montoya's departure for McLaren the following year.
Until the summer of 2004, Villeneuve's unique driving appearance had been at the Goodwood Festival of Speed. In one of the festival's most significant and emotional moments, Villeneuve wore his father's helmet to drive his 1978 Canadian Grand Prix-winning Ferrari up the Goodwood hill accompanied by Gille's good friend and competitor Rene Arnoux reviving their 1979 duel at Dijon.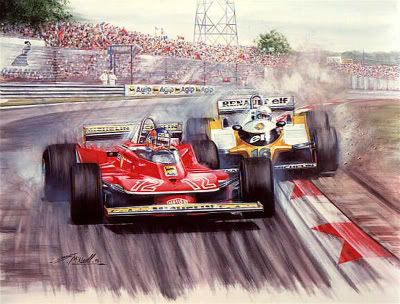 It was really great, and very special, even if it was short"..."The safety levels aren't exactly the same but it doesn't feel like an old car. I could still imagine my father racing in it."
" the former World Champion commented.
Villeneuve's drive with his father's car perfectly encapsulates Goodwood's central concept which is a celebration of how the desire to race is passed down through the generations.
I never thought I would do this. It's something you do once in a lifetime, and that's what it will remain. This run was like thank you and goodbye to my Dad."